BIM has primarily been considered for large project documentation efficiency, while smaller projects and their design processes are often neglected. This session's goal is to show architects and allied design professionals how the inherently data-rich nature of BIM can serve smaller and design-oriented projects. BIM can refine your building design process and help you uses materials more sustainably.

Through a series of technical vignettes, participants will see BIM in a new light: far more than an improved documentation and sharing environment reserved for large projects, BIM can improve both the efficiency of the design process and the efficiency of the design itself.
Attendees will:
Learn about quantitative BIM design opportunities and the value of applying them to a resource-efficient design process.
Understand how building design information can be a powerful foundation for an architectural response to material and resource use.
Identify the applicability of BIM tools and workflows to achieve project goals for sustainable resource use and building performance.
Learn about specific cases demonstrating BIM's role in the optimized design of material-efficient, high-performance buildings.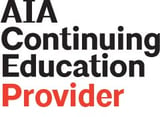 For those who are not members of AIA, you may be able to self-report your webinar attendance for learning credits to your professional association. Please check with their guidelines.